英雄联盟:仙剑尊爵不凡雷玟造型影片释出!
正面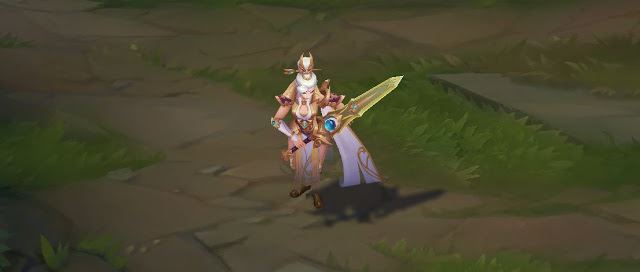 普攻
E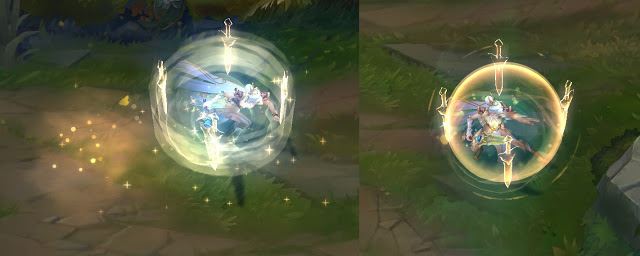 R

回城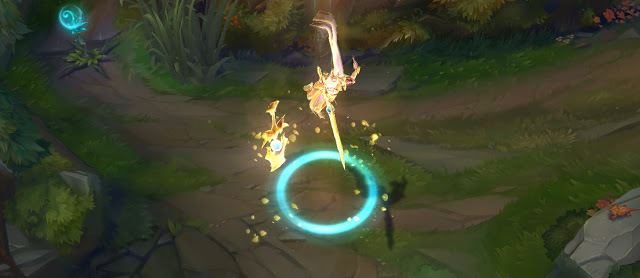 全身视角

W

-------------------------------------------------
Here's Riot KenAdamsNSA with an update on Eternals - "We heard your feedback and we're making some adjustments."
"Hey everyone. After spending the last two weeks reading all your thoughts and collecting feedback from players all over the world, we're ready to give an update on Eternals. We know it took longer than some of you wanted, but we wanted to be able to share the concrete changes we're making.
In case you missed it, Eternals are a new type of cosmetic that let you showcase your accomplishments in League, counting both unique and general gameplay milestones on a per-champion basis. In-game, you'll see milestones "pop up" on the side of the screen as you hit statistical checkpoints for that Eternal.
XDDDDDDD
此系列会跟先仙侠一起出,预计在9.19上线
在法师和贵族、斗士等羁绊相继遭到削弱之后,虚空羁绊成为了目前联盟战棋排位赛当中最为热门的羁绊。不论是老版本的虚空斗法,还是新版本的虚空斗刺和虚空忍刺,都是以虚空羁绊作为主力羁绊来进行阵容搭配的。不过这样的好日子,很快就要到头了
2名:随机一名虚空普攻&技能变成真实伤害

4名:全部虚空伤害变成真实伤害
再来是未来五金角色的机率
战棋设计师Mort除了会在推特上公布一些关于联盟战棋的改动以外有时候他也会在直播时透露一些新消息。比如最近他就表示将取消玩家在低等级时搜到5费棋子的机制。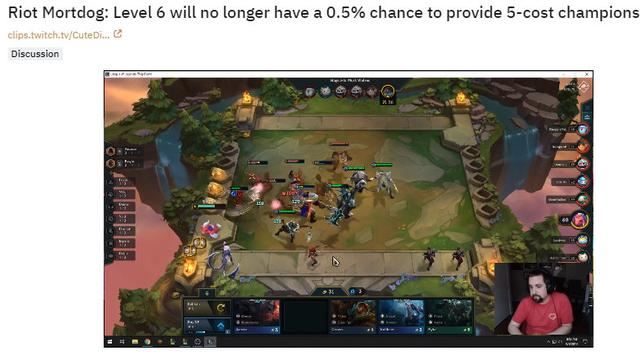 原来现在玩家在6级时会有0.5%的概率搜到5费的金色棋子。大家可以来看看联盟战棋的评级,可以说除了屡屡发呆的好运以外金色棋子就没一个弱的,基本都是S级和A级的棋子,拿出来就有用的。
如果前期就来个犽宿,或者第三阶段的二星死哥,基本上这局就会有非常良好的游戏体验。当然作为对手可不是这样,比如有些网友就表示:"设计师是不会移除这个概率的,因为这会为玩家带来难忘的回忆和激动人心的时刻。"这是在致敬打死不改好运的设计师吗?
-----------------------------------------------
Jayce's E - Acceleration Gate now properly functions when cast on top of Jayce
Pinging Pantheon's R - Grand Starfall will tell Pantheon's teammates which enemies are in range

Wolf no longer grants additional, non-functional vision to Kindred when circling her

Champions affected by Stasis no longer move during the effect

Allies on their way to enter Tahm Kench's R - Abyssal Voyage will no longer be stuck when Tahm Kench is hit by an enemy
When Shaco fears a target with W - Jack in the Box, he'll properly receive an assist if the target is killed shortly after
Diana's Passive - Moonsilver Blade's tooltip now properly updates when she ranks up E - Moonfall
Jinx's E - Flame Chompers now properly prevent Akali from moving when she uses R - Perfect Execution through them
Taliyah's Q - Threaded Volley now properly consumes the full mana cost after she walks out of an area of Worked Ground
Illaoi can no longer dash a short distance using W - Harsh Lesson when snared or rooted

Bard's Meep cone attacks now properly break spell shields

When Karthus is under his Passive - Death Defied effect, his W - Wall of Pain now properly grants vision around the wall